Financial Balances
General Information
You can add value to your CSU Card and use it to make purchases at different locations thorughout the University.
Current outlets include:
Food and drink outlets
Eat@20 - Wagga
Mouth Trap - Wagga
The Gums - Thurgoona
Cafe Mitchell - Bathurst
The Bakery - Bathurst
Commons Cafe - Bathurst
Banjo's Bistro - Orange
Explorer's Cafe - Dubbo
Retail Outlets
Mini Mart - Wagga
Mini-Mart - Bathurst
Student Supplies - Wagga
CSU Print - Bathurst
Adding Value to Your Card
The options for adding value to your card include:
Web payment through the Financial Balances page (credit card only)
EFTPOS (with debit or credit card) at the EFTPOS Loaders located in the Libraries and Learning Commons
BPay (please note your BPay facility is set up through your own bank, and payment can be done by anyone, including parents, if you provide your BPay Customer Refernce Number and BPay Biller Code)
Universtiy Cashiers (cash, cheque, money order, credit or debit card) Please note that the Cashless Cashier in the Learning Commons on some campuses can not accept cash transactions.
Library Photocopying
Photocopying services in campus libraries now utilise the CSU Card system. Once you have value in your CSU Card Account, you can use the photocopiers, and debit your card account for the usage.
In order to use the new terminals simply touch your CSU Card to the top of the terminal until it beeps (see image). You will be prompted to enter yor 6 digit CSU Card PIN. Your account balance will be displayed on the terminal screen. Once you start photocopying the cost of each copy will be deducted from your balance.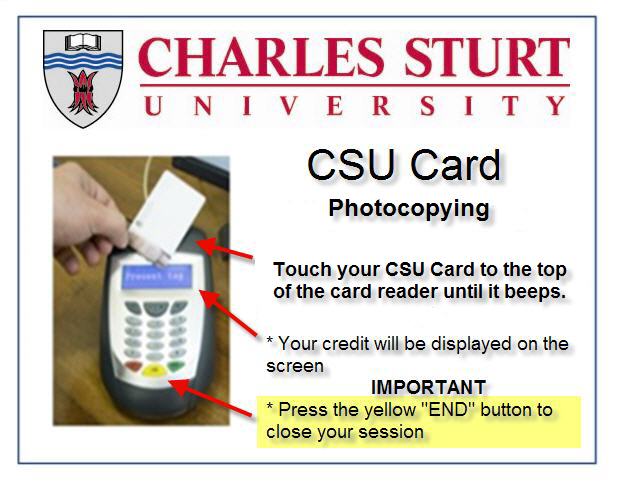 It is important that you press the yellow "END" button on the terminal to end your session. Sessions will time out if you leave the copier, but this does not happen immediately. If you do not end your session, unauthorised copies can be made on your account.
Bus Travel
You can use your CSU Card to pay your bus fare on CSU OPERATED BUSES in Wagga. This only applies to the CSU Buses, and is limited to Wagga campus. You simply swipe your card over the unit, and the fare is debited from your CSU Car Account.
Future Enhancements
The Division of Finance in co-operation with the rest of the university will progressively introduce functionality to allow the use of your CSU Card to process low value transactions. When these enhancements become available "What's New" messages will advise the CSU community.