BROWSE BY CATEGORY

KEY STUDY AREAS

LOCATION
CSU Live Testimonial
| NSW AWARD FOR INTERNATIONAL STUDENT
Charles Sturt University (CSU) student Ms Saba Nabi can't stop smiling - and for good reason. The postgraduate pharmacy student was named a winner last night at the 2014 NSW International Student Awards.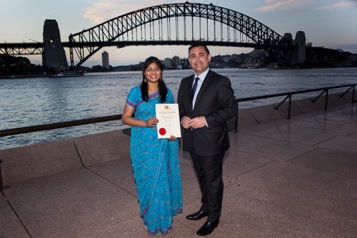 At a ceremony in the Sydney Opera House, Ms Nabi, from the School of Biomedical Sciences at CSU in Wagga Wagga, took out the Higher Education category.
From New Delhi in India, Ms Nabi has taken to living and studying in regional NSW since arriving with her young family to undertake a PhD at CSU in 2011.
She was the first international student elected to the CSU Council in 2012 and was also the postgraduate student representative on the University's Faculty of Science Board.
Ms Nabi is President of the International Students Club, part of the CSU Health Promotion Group, CSU Green programs, the University's Future Moves programs and Secretary of the Islamic Students Association.
She is also involved in the wider community through the Cancer Council Wagga Wagga, and the Multicultural Council of Wagga Wagga. Earlier in 2014, the PhD student was a finalist in the Wagga Wagga Business Chamber's annual Crow Awards.
Ms Nabi said, "This award is actually for Charles Sturt University and the Wagga Wagga community".
"I really thank God that I live in a regional location which is full of opportunities, especially engaging a lot with the local community.
"It's true that Wagga Wagga is my soul and Charles Sturt University is the heart of my body."
Student Liaison Officer (International) at CSU Ms Jacqui Blomfield and pharmacy program leader Mr George John attended the Awards ceremony in Sydney overnight.
"Saba truly deserves this International Student Award for her many contributions to Charles Sturt University and the city of Wagga Wagga," she said.
"Saba has managed to draw together Charles Sturt University and the wider community with international students.
"She has worked collaboratively to raise the profile of international students at Charles Sturt University."
Mr John said, "Saba's win is an outstanding achievement for a student who keeps on giving to Charles Sturt University and the local community through a variety of ways".
"She is a wonderful advocate for Charles Sturt University and regional Australia."
Ms Nabi was presented a trophy and certificate by NSW Parliamentary Secretary for Small Business and Regional Development John Barilaro, MP at the Sydney Opera House on Monday 15 September.
The NSW International Student Awards are organised by StudyNSW and the NSW Government 'to celebrate the outstanding contribution international students make to communities in NSW'.