BROWSE BY CATEGORY

KEY STUDY AREAS

LOCATION
CSU Live Testimonial
| PHARMACY STUDENT NAMED BEST IN 2014
Charles Sturt University (CSU) student Mr Jamie Pisani has turned his attention to his final exams only days after being named the best Australian pharmacy student of 2014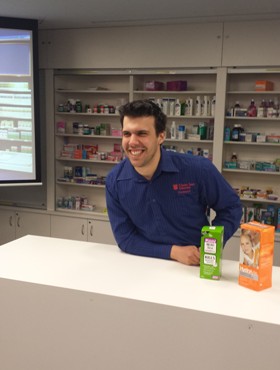 A wildcard entry in the national competition, Mr Pisani was named Pharmacy Student of the Year at the Pharmacy Australia Congress (PAC14) hosted by the Pharmaceutical Society of Australia (PSA) in Canberra on Friday 10 October.
The Bachelor of Pharmacy student from the School of Biomedical Sciences at CSU in Wagga Waggga also won the audience choice award at PAC14.
Mr Pisani, from the NSW South Coast, described his win as a 'relief'.
"I was named the National Australian Pharmacy Students Association wildcard entry back in January so I've had this day looming for nine months," he said.
At PAC14, eight finalists representing all states and territories plus the wildcard entrant competed for the title of Pharmacy Student of the Year by leading a counselling session. Finalists were required to demonstrate a great depth of clinical knowledge as well as empathy with the 'patient' in front of a large audience.
"I loved the idea of pitting the best from each state up against each other and it was definitely something I wanted to be involved in," Mr Pisani said.
"I was very proud to represent Charles Sturt University and also the National Australian Pharmacy Students Association as their wildcard entrant.
"The most important things I have learnt from the pharmacy program at Charles Sturt University are counselling skills and building rapport with customers and patients.
"The University really emphasises the notion that counselling patients shouldn't be seen as an interrogation; rather we must understand all aspects of the patients' health.
"I believe this is what helped me win both the wildcard entry and the competition overall."
Last month, the CSU student won another national competition. He was part of the team to win the Pharmacy Guild of Australia National Student Business Plan Competition in Melbourne.
Mr Pisani will sit exams at CSU from Monday 20 October. His graduation will be held at CSU on Tuesday 16 December.
Beyond that, Mr Pisani has a hospital/community pharmacy job lined up on the NSW South Coast.
"Eventually I would like to own a business in the future. I guess my overall desire is to graduate, complete my intern year so I can finally register as a pharmacist to pursue this amazing career," he said.
Pharmacy program leader at CSU, Mr George John said, "Jamie is a great ambassador for Charles Sturt University and the pharmacy profession.
"In fact, I would not be surprised to see Jamie as one of the national leaders in the pharmacy profession in five years from now.
"Counselling is one of the key elements of professional practice and Jamie has demonstrated the ability to give superior health care outcomes for patients.
"This in itself is a testament of the quality of training offered at Charles Sturt University and makes our graduates well sought after in the industry."
CSU offers the four-year pharmacy degree through the School of Biomedical Sciences in Orange and Wagga Wagga. Read more about pharmacy in CSU News here.