Facilities
National Radio News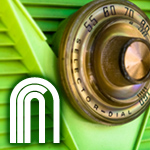 Broadcast Journalism students work alongside professional journalists to produce the National Radio News service, which is distributed daily by ComRadSat, to more than eighty radio stations, nation-wide.
Hands-on experience with NRN enables students to operate in the radio industry, gaining professional, practical knowledge. Students create and produce stories, segments and entire programs for broadcast. Students can also play an active role in the day to day operation of the station. In combination, these skills result in highly regarded graduates.
Students are encouraged to further expand their horizons by working at local radio stations, BROCK FM and 2BS GOLD, in addition to the various radio stations located around the country.