Facilities
The Ponton Theatre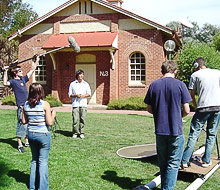 The Ponton Theatre is a heritage listed little theatre located on the Bathurst campus. It features industry standard facilities, available for students and members of the Bathurst community.
Features include:
Tiered seating for 99 audience members
Multi-Channel lighting system
Professional sound mixing system
Front of house facilities
The Ponton Theatre is regularly used for theatrical plays and musicals as well as public lectures. Seminars and public lectures held in the Ponton reflect a diverse range of subjects such as, film, television, and the communications.
Students use this facility as a creative performance space for their own productions as well as for hosting community events. Many final year Theatre/Media students showcase their major productions in the Ponton, to the general public.