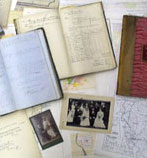 Summer Research Scholarships
To promote research use of the CSU Regional Archives collection, the Archives is again offering two Summer Research Scholarships for work on designated projects at the Archives during the coming summer session.
One scholarship has been designated for a student enrolled in a course from the Faculty of Arts, whilst the other is aimed at an enrolled student from the School of Information Studies, studying to become an information professional. The Scholarships are open to suitably qualified CSU students on a competitive basis.
Each scholarship comprises a $3,500 tax free allowance paid in four instalments upon satisfactory attendance and progress.
Scholarships commence on 10th December 2012 and conclude on 8th February 2013 (with a Christmas/New Year break between 21st December & 2nd January).
Previous Scholars' Reports
2011-2012
2010-2011
2009-2010
90 Years of Regional Representation; From Country Party to National Party (Peter Nowland)
90 years of...
The Riverina Theatre Company Records (Sarah Ind)
Riverina Theatre...
2008-2009
Developing an index for 'Exploration and Settlement in Australia,' by the Honourable James Gormly, M.L.C (Jennifer O'Leary)
Developing an index...
Tim Fischer - The Promise of Personalised Representation (Kate Richardson)
Tim Fischer...
RVN2 - The Riverina's Own Television Service (Maikha Ly)
RVN2...
2007-2008
A Student Voice at Riverina College of Advanced Education? (Kathleen Linder)
A Student Voice...

Parents and Citizen's Associations in the Riverina 1921 - 1991: Their role and function in schools and communities (Chloe Gow)
Parents and Citizen's...

2006 - 2007
2005 - 2006
The Tom Lennon Collection (Anthony O'Reily)
Sir Earl Page's Political Career (Kath Morris)
Sir Earl Page's...

A Study of the Impact of the Deserted Wives and Children Act on the Town of Hay, NSW, 1895-1939 (Kristina Wendt)
A Study of the Impact...
2004 - 2005
2003 - 2004
2001 - 2002
History of Riverina Newspapers' Project (Mary Dwyer)
2000 - 2001
Women in the Media: The Role and Representations of Wagga Women in the 1950's (Bronwyn Ryan)
1998 - 1999
The Murray Valley Development League: 'Ahead of its Time' on Land and Water Conservation? (Madeline Denholm)
The Murray Valley...
1997 - 1998
An Historical Analysis of Cattle Grazing Practices on the Flood Plain of the Murrumbidgee River (Troy Whitford)
An Historical Analysis...