Current Projects
2020 Projects
Project Grants
Habitat enhancement to create a more resilient squirrel glider population.
Objective: The squirrel glider is listed as 'vulnerable' in NSW. Populations are subject to a number of threatening processes that act at the landscape scale (e.g. fragmentation, and habitat degradation). It is clear that the populations around Albury campus are threatened by increasingly dry summers and urban development. The Albury campus and surrounding conservation lands have the potential to provide a significant long term refuge for the possums in the area, if these areas are appropriately managed. This project aims to create a more resilient population of squirrel gliders by addressing these landscape scale threats. Specifically it will address fragmentation by patches of vegetation (stepping stones/gliding corridors) between existing remnant vegetation. It will also address habitat degradation by random planting of wattles within existing remnant vegetation.
Squirrel gliders have been shown to use artificial nest boxes as their habitat in older tree hollows has declined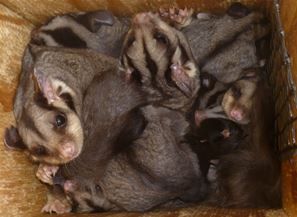 . Photo credit G.Johnson
To read more about the local efforts to support squirrel gliders around Albury Wodonga campus and how this project aligns with these efforts head to the Albury Conservation Company website.
Campus Environment Committee: Albury - Wodonga
Project contact: Jonathon Howard Project Budget: $5,820
Contact the Albury Wodonga Campus Environment committee if you want to be involved in this project.
A 'B&B Highway' or Native Garden for Pollinators on the Bathurst Campus
Objective: Birds, bees and various types of insects within broader ecosystems play an essential role in pollinating crops that provide our food. Yet scientists observe that pollinator numbers are declining across Australia. Food security research shows that improving pollinator density and diversity – in other words, making sure that increasing numbers and types of bees and insects are visiting plants – has a direct impact on crop yields, making their role in biodiversity vitally important. Partnering with PlantingSeeds, a Sydney-based NGO fostering environmental sustainability and biodiversity in the urban and peri-urban environment, the objective of this project is to research, build and evaluate the impact of a 'B&B' or low-water native garden for local pollinators. While important in itself, the garden will represent a further manifestation of the School of Management and Marketing's (SMM) commitment to sustainability and provide an ongoing and relatively simple engagement and educational opportunity for staff, students and other stakeholders. For further information on the B&B highways, please see https://ps.org.au/bbhighwayabout.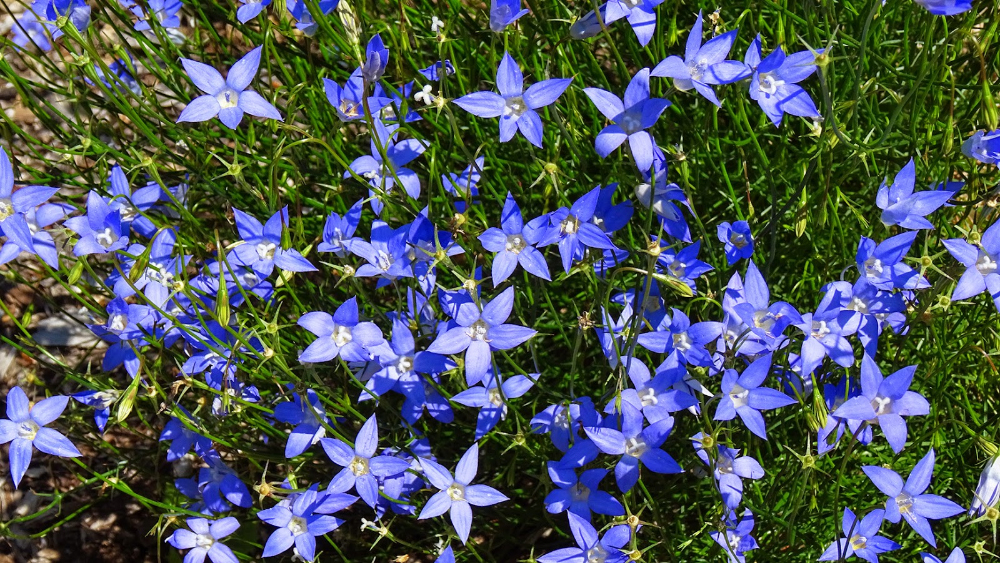 Campus Environment Committee: Bathurst
Project contact: Simon Wright Project Budget: $10,000
Contact the Bathurst Campus Environment committee if you want to be involved in this project.
Wagga Wagga campus irrigated turf reduction project
In a context of a drying climate and increasing water scarcity, campus landscaping needs to be adapted to cope with hotter, drier conditions and less potable water use for irrigation. The Wagga Wagga campus grounds team is taking a proactive response to this challenge. The campus has around 18 hectares of irrigated turf and 5 hectares of sub-surface irrigated garden beds. The potable water use for these sites is estimated to be 2.5-3.5 Mega-Litres per hectare over the 2018/19 summer period.
By selectively reducing unhealthy turf areas (eg. soil fungi, excessive shading and mature tree root growth) and replacing with climate suitable low or zero irrigated water landscapes a practical and attractive substitute to irrigated turf will be trialed.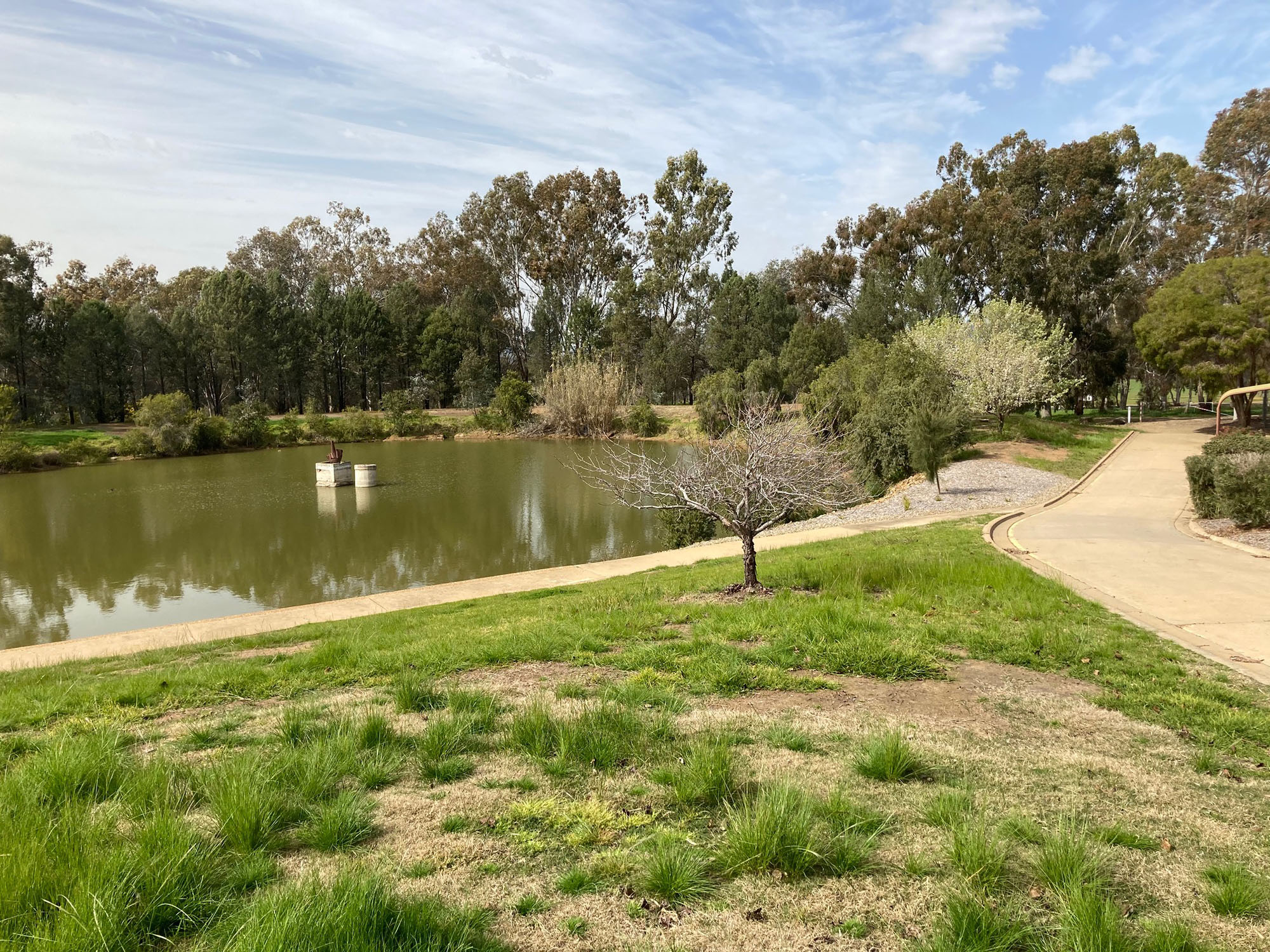 A section of diseased turf on Wagga Wagga campus, one of the proposed sites for the turf replacement.
Campus Environment Committee: Wagga Wagga
Project contact: William Pollack Project Budget: $10,000
Monitoring the David Mitchell Wetlands for improved ecological outcomes
Charles Sturt campus boasts artificially created wetlands created when the campus was built and filled via filtering the grey and storm water from campus buildings through a series of ponds and into the David Mitchell wetland areas. The population of Sloanes Froglet is one of the largest of the few remaining in NSW. Water temperature is a key factor for breeding success and this project will focus on the monitoring of water temperature of the wetlands at multiple locations using data loggers. In conjunction with this, acoustic recorders will monitor corresponding Sloanes Froglet activity. This data will be made available across the university and in partnership with the wider NSW government monitoring program to continue to manage the wetlands for improved biodiversity outcomes.
Image: Sloanes Froglet - D.Hunter
Campus Environment Committee: Albury Wodonga
Project contact: Matthew Gill Project Budget: $9,799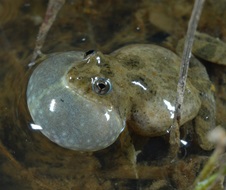 ---
Community University Partnership Grants
2020 is the second year Sustainability at Charles Sturt have supported sustainability theme within the Community University Partnership Grants (CUP Grants) and these have again proved very popular within our regional communities. We are proud to support these worthy projects: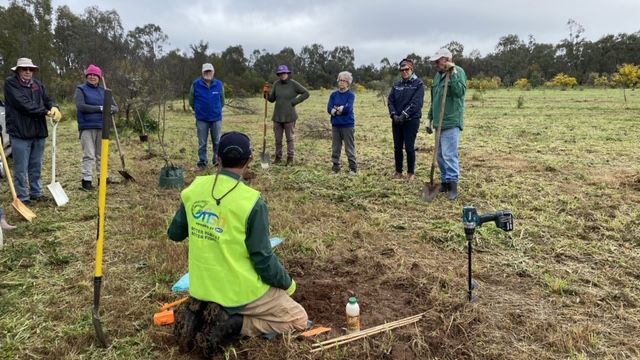 Dubbo Rivercare at their recent Macquarie River working bee
| Organisation | Project | Funding Awarded |
| --- | --- | --- |
| Corowa Public School | Environmentally Sustainable Outdoor classroom | $750 |
| Sustain: The Australian Food Network | Food Stories: Big and Small Podcast | $1000 |
| Dubbo Rivercare | Macquarie River weed control and Replanting | $1000 |
| Hastings Valley Amateur Beekeeping Association | Education Apiary | $1000 |
| Herland Cooperative | Rebuilding communal shelter | $1000 |
| Zonta Club of Port Macquarie | Environmentally Friendly Birthing kits | $1000 |
Grass Roots Grants
| | | |
| --- | --- | --- |
| Project | Campus | Funding |
| Refurbishing laptops to support students | ALL | $1,000 |