Submit an Expression of Interest
You can submit an Expression of Interest (EOI) for a Student Services Amenities Fee (SSAF) project for 2023 funding. Your project will have clear milestones and outcomes.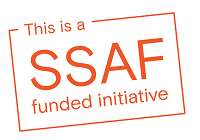 Before you start
Before you complete your Expression of Interest, you'll need to:
Plan out if the project is needed

Ensure your idea fits one or more of these 19 areas

In the Higher Education Legislation Amendment (Student Services and Amenities) Act 2011, the Australian Government identified the 19 areas in which SSAF can be spent:

Providing food or drink to students on a campus of the higher education provider
Supporting a sporting or other recreational activity by students
Supporting the administration of a club most of whose members are students
Caring for children of students
Providing legal services to students
Promoting the health or welfare of students
Helping students secure accommodation
Helping students obtain employment or advice on careers
Helping students with their financial affairs
Helping students obtain insurance against personal accidents
Supporting debating by students
Providing libraries and reading rooms (other than those provided for academic purposes) for students
Supporting an artistic activity by students
Supporting the production and dissemination to students of media whose content is provided by students
Helping students develop skills for study, by means other than undertaking courses of study in which they are enrolled
Advising on matters arising under the higher education provider's rules (however described)
Advocating students' interests in matters arising under the higher education provider's rules (however described)
Giving students information to help them in their orientation
Helping meet the specific needs of overseas students relating to their welfare, accommodation and employment.

Seek out tips and support
Steps to submit an Expression of Interest
Prepare your proposal
The Annual Round for all 2023 SSAF funding is now closed. Each year students and staff have the opportunity to submit Expressions of Interest for projects to be ran the following year. A template will be available when the round opens in August.
Submit
Submit your completed EOI to ssaf@csu.edu.au by the closing date deadline.
All proposers will be notified before the year end to give time for the projects to begin the following year.