The 70:20:10 model isn't just a numeric sequence. It is a fundamentally different view of work, performance and learning in the 21st century.
Based on the principle that:
70 percent of learning comes from experience, experiment and reflection.
20 percent derives from working with others.
10 percent comes from formal interventions and planned learning solutions.
For more information and suggestions review the Charles Sturt Capability Guide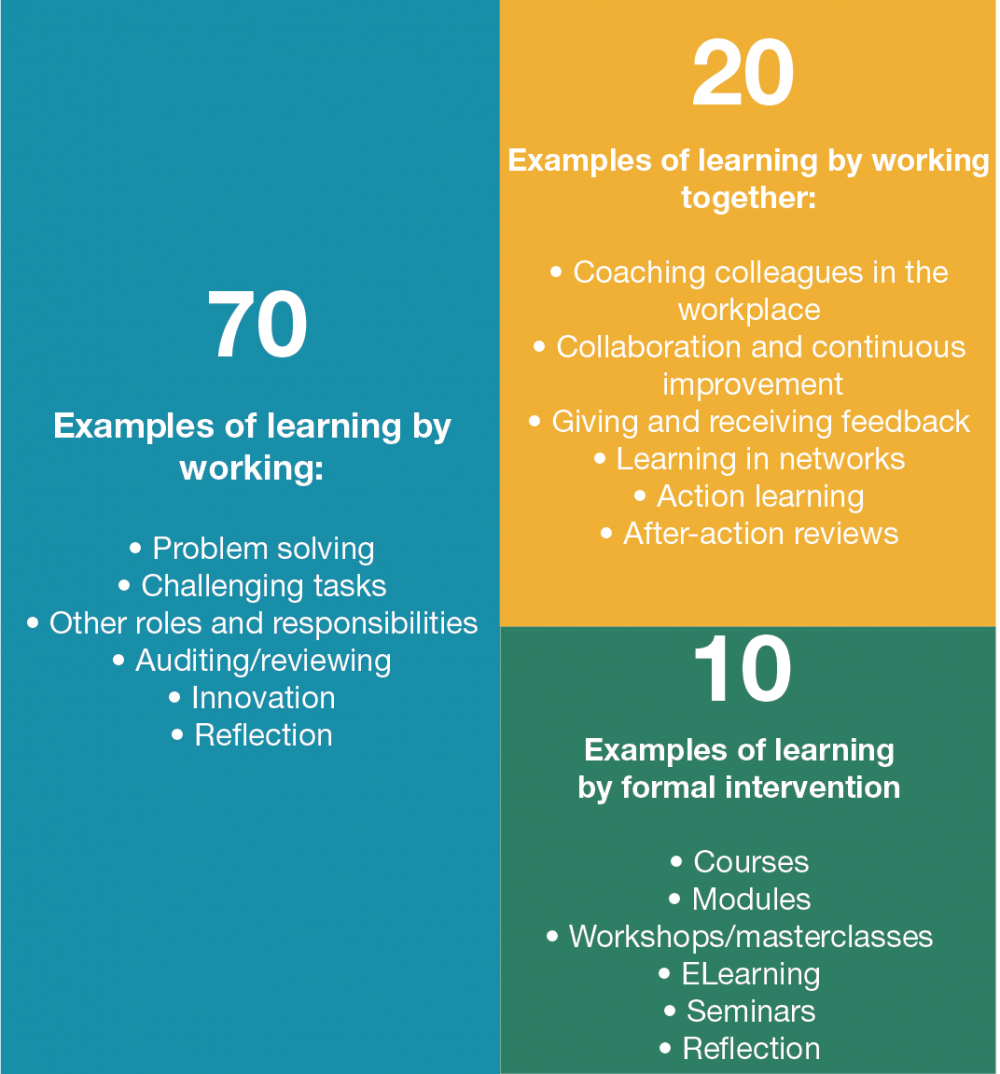 70:20:10 is a Reference Model
The numbers are essentially a reminder that people learn most from working and interacting with others in the workplace (70+20). The specific ratio (70:20:10), in any given situation, will vary, depending on the work environment and the organisational results required.
The 70:20:10 Approach to Learning & Development
Learning on the job
Learning on the job allows you to practise new skills as you learn them. It also allows you to get immediate feedback from other team members. Learning on the job might include:
Writing procedures and instructions for new tasks you complete
Researching websites for information
Brainstorming solutions to problems
Nominating for a position on a committee, either internally or in the community
Talking to students and stakeholders to find out how you can better serve them
Undertaking reflective activities - for example:

what's working well?
what were the critical success factors?
what could you do better?
what can you do differently to achieve better outcomes?
are there any tips you can pick up from colleagues and other teams?

Understanding the University's and your team's priorities and how you're contributing to them
Writing a journal about your experiences learning new things
Analysing your calendar to assess where you're spending the most time and how this reflects on your working style and effectiveness
Having regular one-on-ones with your manager and colleagues and create feedback opportunities
Attending meetings, forums and functions that allow you to build relationships with internal and external stakeholders.
Planning for success
To get the most out of on-the-job learning, it's important to plan. You should consider what you want to achieve, and make sure you're specific. For example, if you're part of a project team, you may want to learn how to:
Manage a project
Set timelines
Work with stakeholders.
Discuss your level of involvement with your supervisor and create an On-the-Job Learning Plan.
Learning from others
You can benefit from the knowledge and experience of those around you. Opportunities for learning from others might include:
Sourcing a mentor relevant to your development goals
Arranging coaching from someone with expertise in an area you want to develop
Organising a coach to help you through your improvement initiatives or projects
Becoming a coach or mentor for a less experienced team member
Seeking feedback from others, including:

Managers
Team members
Colleagues.

Identifying positive role models and observing how they approach interactions with others
Seeking out opportunities to shadow a more experienced colleague as they go about their job
Identifying and using networking opportunities to interact with and learn from others
Meeting with peers from other parts of Charles Sturt to find out how you can work more effectively with them
Getting involved in activities outside of work and learning from the people you engage with
Asking a trusted colleague to observe your interactions and provide feedback
Building a professional network of colleagues you can ask for advice or assistance
Joining groups such as:
Looking for opportunities to work with skilled colleagues in areas you want to develop
Seeking opportunities to be an observer at committee meetings
Discussing best practice with colleagues
Formal learning
Formal learning opportunities can include:
Higher education study through Charles Sturt University
Online learning programs such as LinkedIn Learning
Studying for a formal qualification with leadership programs such as:
Attending conferences such as Leadership Development for Women, Charles Sturt ED, or looking for external opportunities
Webinars for managers including the Manager Success Workshop Series
Research support through the research community
Learning and Teaching professional development opportunities at Charles Sturt
Vocational education and training programs
Opportunities for career and industries such as trade and office work, retail, hospitality and technology.