Web Kiosk and Extend Reports
The Web Kiosk provides staff and supervisors with HR information. Extend Reports provides approved supervisors and administrative staff with access to more comprehensive information, such as the staff profile report.
Web Kiosk Refresh
The Division of People and Culture have recently introduced a refreshed Web Kiosk, with a new and revitalised look and feel in the Charles Sturt branding.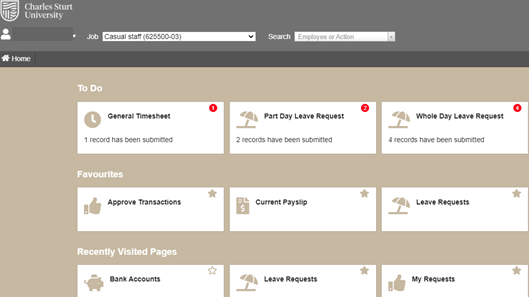 The refreshed Web Kiosk will make it easier to find the information you need instantly, by navigating via the new dashboards and search function or using the familiar drill-down home menu.
The new tile concept provides a cleaner, more intuitive, and modern approach. The dashboards incorporate real-time graphical widgets such as graphs and the new leave countdown – see the live countdown to your next holiday!
The Web Kiosk upgrade ensures the software used by the university is up to date and compliant. The upgrade also introduces some exciting new features:
complete visibility of your Favourites
view your To Dos and Recently Visited Pages on your new Home page
access dashboards including My Leave, My Pay and My Team
convenient access to Web Kiosk on your device
secure your Web Kiosk data using multi-factor authentication (MFA) at login.
To assist with this transition, we have provided user guides and self-help videos:
Individuals
My Favourites (mp4)
Academic Timesheets

Submitting Academic Timesheets QRG

General Timesheets
Team Leaders
Other
Extra Security for Web Kiosk
The Division of Information Technology is currently working with the Division of People and Culture to implement multi-factor authentication (MFA) for Web Kiosk during Quarter 2 2020.
Information in Web Kiosk
You can update personal information such as contacts and bank accounts directly in the Web Kiosk, as well as being able to view your employment information. View all the functions of Web Kiosk for staff or our frequently asked questions.
Supervisors, in addition to your staff access, you can view the details of your team, including birthdays, probation and employment as well as approve timesheets and leave requests. View the additional functions of Web Kiosk for supervisors.
Web Kiosk availability
Generally the Web Kiosk will be available 24 hours a day, 7 days a week. The exception to this will be during backups usually around 1.00pm on the Friday before payday for 30 minutes.
Please note that these times may vary due to changes to operational requirements or events such as public holidays. If the Web Kiosk is unavailable at other times, users will be notified as soon as possible on What's New.
Staff user guides

chevron_right
Supervisor user guides

chevron_right

General

Approving casual academic (sessional) timesheets

Casual professional/general timesheets

Approving annual and personal leave requests

Long service and special leave

Extending adjunct appointments

Extending casual professional/general appointments
Extend Reports
With information from the HR System, Extend Reports provides more comprehensive data for staff with approved access.
User guides