International Women's Day
International Women's Day (IWD) aims to create a world that is diverse, equitable and inclusive. A place where difference is valued and celebrated and where together, we can forge women's equality and #EmbraceEquity.
It is a chance to promote conversation about the gender inequities still present in society today, encourage reflection on the progress made towards gender equity and Charles Sturt including our commitment to the further growth and advancement of women, and to celebrate diverse women in our workplace.
Online events
1-2pm, Tuesday 7 March 2023
Charles Sturt University event
Presented by the Gender and Feminist Studies network, join Professor Megan Smith, Dr Stacey Jenkins and Dr Emma Rush for a discussion on discrimination and marginalisation in higher education and solutions we can engage with.
As part of International Women's Day the Gender and Feminist Studies network are hosting a livestream discussion focusing on 'the role that bold, transformative ideas, inclusive technologies and accessible education can play in combatting discrimination and the marginalisation of women globally.'
Gender and Feminist Studies Network zoom
12.15pm, Tuesday 14 March 2023
UniSuper Livestream
This year we're celebrating future minded great thinkers. We want to crack the code for gender equality and celebrate those who break down barriers and are paving the way for future generations. the event will be hosted by UniSuper CEO, Peter Chun, and UniSuper's Chief Marketing and Growth Officer, Dani Murrie in-conversation with special guest, Annabel Crabb.
Local events
Wagga Wagga
Staff are encouraged to attend the Charles Sturt Art Collection International Women's Day Lunch Time Tour at the Wagga campus library on Wednesday 8th March. The tour will depart at 12.30pm.
Women in Business Wagga Wagga presents 'Busting Bias - The Path to Embracing Equity'. Speakers include Aunty Cheryl Penrith, Juanita McLaughlan, Jacinta Bodel, Nick Steepe and Dr Saba Nabi. https://www.womeninbusinesswagga.org.au/events/international-womens-day-2023/
Bathurst
Bathurst Regional Council International Women's Day event with guest speaker Julie Fairley.
https://www.bathurst.nsw.gov.au/community/community_mm/international-women-s-day.html
Port Macquarie
International Women's Day breakfast held at held at Westport Club with keynote guest speaker Natalie Isaacs, founder of 1 Million Women.
https://www.hbwn.com.au/event/event/detail/event/72588
Dubbo
International Women's Day Dinner with guest speaker, CEO and author Lucy Bloom https://dubborsl.com.au/whats-on/special-events/
Albury
An evening of conversation with a panel of local women discussing what equality and equity means in a modern, rural community https://stayhappening.com/e/international-womens-day-E2ISVBF87OM
Goulburn
International Women's Day trivia at Goulburn art gallery https://goulburnregionalartgallery.com.au/events/international-womens-day-trivia
Orange
Orange City Council is inviting community members to come together to celebrate the diversity, strength and beauty of women and promote their rights and dignity with a celebration in the Orange Botanic Garden
https://www.orange.nsw.gov.au/news/empowering-women-celebrate-international-womens-day-with-us/
Canberra
Hosted by UN Women, join a discussion bringing together leaders and changemakers who are redefining innovation – creating new social, economic and cultural codes for a gender equal future, and help us raise much needed funds to accelerate gender equality. https://unwomen.org.au/unw_events/iwd-2023-canberra/
Send a RED eCard
Charles Sturt employees can recognise their colleagues and send a RED eCard to someone who they have seen break the gender bias.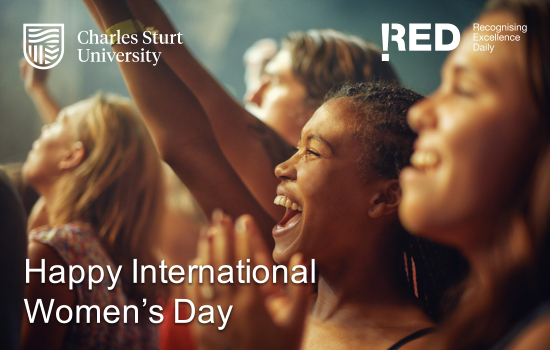 LinkedIn Learning
Wanting more information on how you can help to break the bias? Charles Sturt University has a collection of LinkedIn Learning courses that provide tips on breaking down biases and helpful tips for women to develop skills and their career.