Impact of a bequest – A student's thank you
To the Executors of the Carole and Stan Droder Scholarship,
My name is Ben and I am one of the recipients for this amazing scholarship, and I cannot express how grateful I am, but I can tell you my story and how the Carole and Stan Droder Scholarship will help me to achieve my dreams.
I spent my entire life before university growing up in Broken Hill in outback NSW and come from a family of 5. My mother works underground at the mine and my father is an exploration geologist. I have an older brother living in Melbourne and younger sister at university in Newcastle. I am currently in my fourth year of Veterinary Science at Charles Sturt University, Wagga Wagga campus. I have always had a great passion for working with animals and it has been a lifelong dream to become a veterinarian.
At age 9, I joined the local wildlife rescue group and became their first junior carer, responsible for nursing injured lizards back to health before releasing them to the wild. As I grew older my passion for large animals increased and I decided in high school that I wanted to be a veterinarian working in a rural area so that I would get to work inside and outside, with a range of animals, from companion animals to livestock, as well as pursuing my wildlife interests.
I was not successful in being accepted into Veterinary Science upon leaving high school, however I decided that Wagga Wagga was where I wanted to attend university so that I could continue living in a regional town and not move to the city. For this reason, I applied for a different degree, being radiography (as I was also interested in human healthcare). I studied this course for one year and did enjoy this course, however I was still determined to transfer into Veterinary Science, so whilst studying I took every opportunity to gain experience in different animal industries such as work at dairy and sheep farms, as well as clinical veterinary experience. Being finally accepted into Veterinary Science Class here at Charles Sturt was one of my proudest moments.
I have worked hard throughout the first three years of my degree and have supported myself by working multiple jobs in both hospitality and on campus as a Student Ambassador and Residential Advisor. I currently work for the university as Head Resident of one of the residences on campus, this role involves coordinating a team of Residential Advisors to support the students living in my residence mentally, academically and culturally. This is my fifth year living on campus and I have loved the experience of living with so many like-minded students. I see my position of Head Resident as a way of giving back to make sure that the younger students have the same fantastic time that I have been lucky to have had.
The Veterinary Science degree here at Charles Sturt is fantastic because there is a lot of practical work to be undertaken in our breaks from class, and they are quite flexible about where I can go on placement, as long as we complete the mandatory components. Last year I did a week on placement at Bare Sand Island, 50km from Darwin. I spent my time there working on a sea turtle conservation project, I had the time of my life. 4th year is going really well at the moment, we have finished with the standard science subjects like chemistry and are learning the real nitty gritty of vet science. I completed my first surgery the other day, which went really well and was a very proud moment.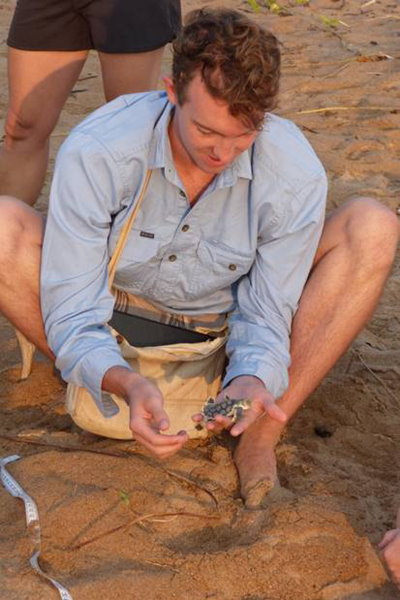 This is a picture of me holding a hatchling Flatback Turtle, known as 'Australia's Turtle' because they spent their whole life in Australian waters, they are also the only non-endangered species of sea turtle in the world.
My goals for the next ten years are to graduate from university, work as a rural veterinarian in remote areas of Australia, and possibly work as a locum to find somewhere that I love and gain a permanent position. I want to pursue working with livestock, I am particularly interested in dairy cattle after my time on placement in North-East Victoria over summer. Whilst working as a veterinarian, I plan on donating my time to assist the local wildlife carers, gain experience in native animal medicine and become an advocate for wildlife conservation and sustainable farming.
I still have almost three years here at university before I can achieve these goals, with many expenses such as textbooks and travel costs for placement. With this scholarship, the burden of final year rotations in clinics has been lifted. We are required to undertake 12 three-week placements in a number of types of clinics including equine, small animal, mixed practice, government practice, farm consultancy and pathology. Whilst I am able to put in preferences for where we undertake this placement, the cost of accommodation, petrol and food is on me, and due to the variability of my location, I anticipate that finding paid work will be challenging.
Receiving this scholarship will allow me to undertake placements at clinics that I am most interested in rather than just those that are convenient due to cost. I plan on going to Northern Thailand next year to undertake a placement with the World Veterinary Service where I will be able to provide desexing operations and vaccinations for dogs and cats living as strays in the villages. I also hope to undertake three weeks of placement at the Currumbin Wildlife Hospital in Queensland in my final year to get some experience working with wildlife.
The Droder's generous donation will allow me to devote more time to my studies over the coming years and will reduce the stress due to financial worry as I complete the remainder of my degree. The Carole and Stan Droder Scholarship is helping me to achieve my goal of becoming a great veterinarian and I cannot thank them enough. I would love to keep in contact with you both over the coming years and share my journey that this scholarship has helped to provide.
With endless thanks,
Ben Mills
Veterinary Science Student
Charles Sturt University / Wagga Wagga Campus