The Catholic College of Wodonga Scholarship
Applications will open on
25 Sep 2024
Available to:
Commencing Students only
Value: $5000
Duration: 1 Instalment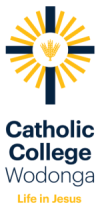 Foundation Scholarship
Since opening in in 1979, the Catholic College Wodonga (CCW) is proud to be known as a school that is welcoming to all. CCW is also known for its innovation, recently being recognised as one of Cambridge University's 100 most innovative schools. CCW leaders and staff are passionate about finding the next education horizon, so that every student can thrive. The purpose of this scholarship is to financially support graduating students from Catholic College Wodonga who choose to undertake university study at Charles Sturt University. The College seeks to support students who best reflect the ideals of the college.
help This site uses and shares cookies and similar technologies to analyse your usage and personalise your experience. You consent to our use of such technologies by proceeding. You can change your mind or consent choices at any time. Visit our legal page, privacy section for further information.