Social Research
Landholder willingness and capacity to manage dryland salinity
Tools - GIS
An example of social research has been illustrated with Allan Curtis' project regarding landholder willingness and capacity to manage dryland salinity. The basis of the analysis is mapping social oriented survey data. This analysis in itself is interesting, but by comparing the results to biophysical layers such as water table or depth to ground water (shown here) even more inference can be made. The picture shown refers to the Goulburn Broken Catchment but similar analysis has also been completed in the Ovens Catchment and will be completed in other catchments.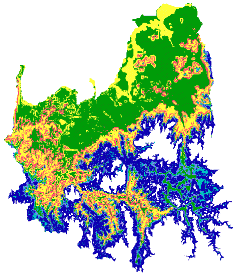 Analysis of voting patterns
Tools - GIS
In the week or so after the republic referendum on November 6th 1999, SPAN was able to undertake some preliminary investigations into the referendum voting patterns exhibited by Australian voters.
GIS enabled us look geographically at where yes and no votes were recorded.
The analysis indicated that the YES/NO vote was divided strongly along City/Country lines with the NO vote being stronger further from the major cities.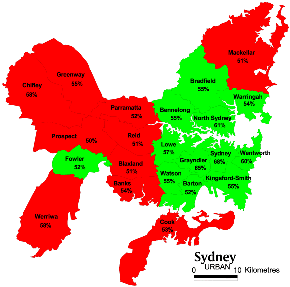 Demographic analysis
Tools - GIS
Demographic analysis of census data at the collection district level
This includes spatial and statistical aspects of
population size and composition
household characteristics
employment characteristics
housing characteristics
etc
This is a sample figure showing location of schools and distribution of primary school students in Wagga Wagga.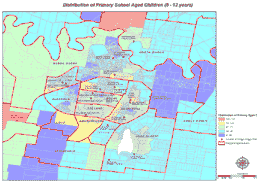 Detailed mapping of school districts
Tools - GIS
By looking at your research area in its geographical context you may find that you are able to explain trends in research that is not explicitly geographical.
This series of maps was produced to assist researchers looking at education in rural and remote NSW. These maps are forming the basis for a wide range of questions on the spatial variablity of education in NSW.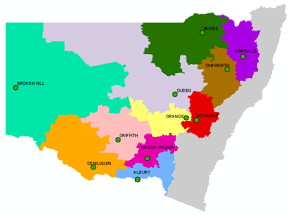 Social impacts of plantation forests in agricultural landscapes
Tools - GIS
SPAN is assisting Hugh Stewart with his PhD on the social impacts of plantation forests in agricultural landscapes in south-eastern Australia. The first stage of the research is using census data and GIS to understand the social changes occurring in the rural areas where the forest industry is seeking to expand plantations. When field data is collected, GIS will be an important tool to study the spatial patterns of social change in these regions, and to interpret results and implications for the plantation forestry industry.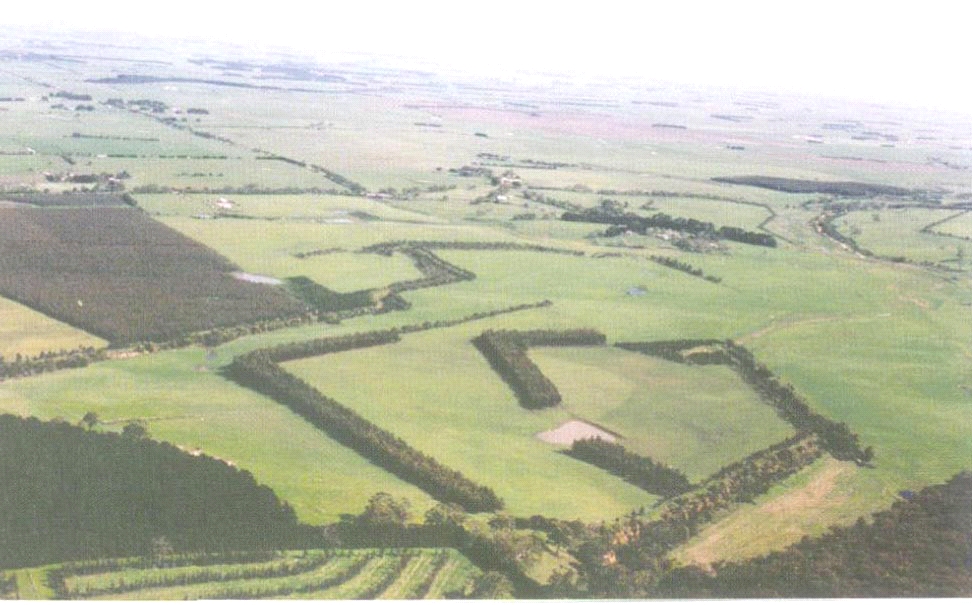 Spatial Patterning of German land and stock holdings at the end of the nineteenth century
Tools - GIS
As part of a multi-facetted research project into the tangible manifestation of the German presence in the Southern Riverina, Dirk HR Spennemann and Gaye Sutherland are examining the spatial patterning of German land and stock holdings at the end of the nineteenth century. SPAN is providing mapping and analysis support.
The Robertson Land Act of 1861 allowed selectors in New South Wales the right to obtain without survey ('conditional purchase) a Crown Grant for a 'living area' of land in any Crown Land, leased or unleased. The 1860s and 1870s saw a rapid uptake of lands by selectors. Many Germans, unable to obtain land at their first location of migration in South Australia, trekked to the areas between Wagga Wagga and Albury and took up land selections there.
In 1884 the Land Act underwent a major revision which excluded leasehold lands from conditional purchase options. To assess the status quo of landownership in the colony, a census of land and stock-holders was carried out in December 1884. This census provides a snapshot of the land holdings at the end of the main conditional purchase period and thus an avenue to investigate the extent of initial German selection in the Southern Riverina.
This study is the first to examine the relationship between land holdings and agricultural stock holding patterns espoused by the German community.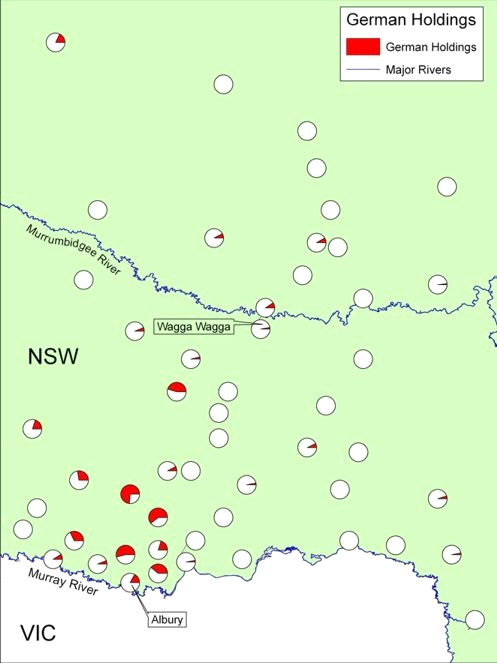 Exploring the effects of historic land-use policies on landscape and vegetation patterns in New South Wales
Tools - GIS
SPAN has supported Sue Hughes with her Phd on the effects of historic land-use policies on landscape and vegetation patterns in New South Wales. The project explores how knowledge of historic land tenures, that were relatively 'protected' by historic legislation, may assist us to identify high quality remnants in fragmented woodlands. SPAN has provided advice and prepared an overlay map that combines a recent air photo with an historic parish map. The illustration will assist in raising awareness of the relationship between the historic legacy of land-use policies and current vegetation patterns in fragmented woodlands.