Welcome to Charles Sturt University!
Being a student isn't an easy job, but the results are rewarding. Visit this page for all the essentials you need to know about to help you on your way to greater knowledge. Whether you're looking for services and support, key dates, help with enrolment or you're just browsing what's on offer, you'll find helpful info here. The easier it is to get through your coursework and graduate the better job we have done!
Access your student environments
Charlie - your student voice
Read stories and advice from fellow students
Your online student toolkit: understand where to go and when
Our campus locations
Our NSW campuses are located in some of Australia's fastest growing regional cities. They offer a unique study experience with the best of city living and the benefits of a regional lifestyle.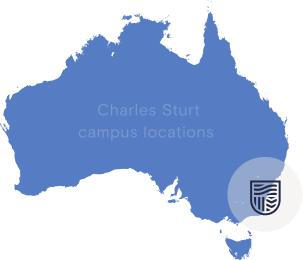 Our campuses
Our study centres
Online bookings OPEN for June/July Residential School on campus accommodation commencing 21 June
MS Word for Assignments 1
Enhancing Literacy 3. Verbs and other parts of speech
Date
10 May 2021 6:00 pm - 7:00 pm
Understand verb tenses, subject-verb agreement and the difference between active and passive verbs. This will help with your basic writing and comprehension skills.
This workshop is part of the Enhancing Literacy series of seven workshops to develop and practice literacy skills. The series is designed for teacher education students preparing for their National Literacy Tests. All students are welcome to join.
LinkedIn and Online Brand
Date
11 May 2021 9:00 am - 10:00 am
Your LinkedIn profile could be the key to your dream job. In this workshop, learn how to present professionally online and develop your LinkedIn profile. Your LinkedIn profile acts as a resume that works while you sleep and with over 20 million job listings worldwide it is one of the best places to search for job vacancies.
Be proud of your online brand.
For more, please visit https://student.csu.edu.au/student-life/workshops-events/events/careers/linkedin-and-online-brand