COVID-19 and your studies:
Remember to check in using the QR codes when on campus.
Find out more
.
Planned outage: Charles Sturt web services (including the Student Portal) will be unavailable between 6am and 8am AEST on Sunday, 18 April 2021 due to important upgrades. We apologise for any inconvenience.
Welcome to Charles Sturt University!
Being a student isn't an easy job, but the results are rewarding. Visit this page for all the essentials you need to know about to help you on your way to greater knowledge. Whether you're looking for services and support, key dates, help with enrolment or you're just browsing what's on offer, you'll find helpful info here. The easier it is to get through your coursework and graduate the better job we have done!
Access your student environments
Charlie - your student voice
Read stories and advice from fellow students
Your online student toolkit: understand where to go and when
Our campus locations
Our NSW campuses are located in some of Australia's fastest growing regional cities. They offer a unique study experience with the best of city living and the benefits of a regional lifestyle.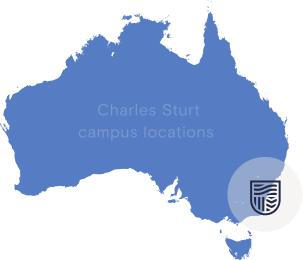 Our campuses
Our study centres
2021 RESIDENTIAL SCHOOL April
Blended Online Community MHFA Workshop (2 dates - 14 and 15 April)
Date
14 Apr 2021 1:00 pm - 15 Apr 2021 3:30 pm
This workshop is held across two days. Attendance in both workshops is mandatory to receive certification
Workshop Part 1 Wednesday 14 April 1pm - 3:30pm
Workshop Part 2 Thursday 15 April 1pm - 3:30pm
You must have completed the eLearning through MHFA Australia in the Blended online Community MHFA course to complete this workshop.
If you haven't completed the above, please contact mhfa@csu.edu.au to arrange eLearning. You MUST complete eLearning prior to our workshops. The eLearning takes around 5 hours to complete online.
This workshop will cost $20.00. You must attend both sessions.
For more, please visit https://student.csu.edu.au/student-life/workshops-events/events/financial-support/blended-online-community-mhfa-workshop-2-dates-14-and-15-april
Introduction to Essay Writing
Online Orientation Workshop
From Start to Submit: 3. Putting it in your own words
Date
17 Apr 2021 11:00 am - 12:00 pm
Sound like an expert in your field by developing your own arguments based on evidence. You'll learn how to paraphrase, summarise and incorporate research into your paper's argument.
We'll also cover:
how to develop and structure an argument
skills to use sources effectively.
This workshop is part of the From Start to Submit: Writing successful assessments series of five workshops to enhance academic writing and assessment skills. We recommend attending all workshops, though you can go to as many workshops as you like.
For more, please visit https://student.csu.edu.au/student-life/workshops-events/events/academic-writing/from-start-to-submit-3.-putting-it-in-your-own-words