Welcome to Charles Sturt University!
Being a student isn't an easy job, but the results are rewarding. Visit this page for all the essentials you need to know about to help you on your way to greater knowledge. Whether you're looking for services and support, key dates, help with enrolment or you're just browsing what's on offer, you'll find helpful info here. The easier it is to get through your coursework and graduate the better job we have done!
Access your student environments
Charlie - your student voice
Read stories and advice from fellow students
Your online student toolkit: understand where to go and when
Our campus locations
Our NSW campuses are located in some of Australia's fastest growing regional cities. They offer a unique study experience with the best of city living and the benefits of a regional lifestyle.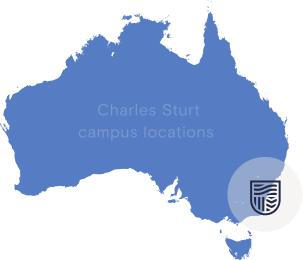 Our campuses
Our study centres
2022 ADMISSIONS Session 1 Open Date
6 Aug 2021
Admission applications now open for study commencing in Session 1 of 2022. (Session code: 202230)
2021 CENSUS date Session 2
9 Aug 2021
Session code: 202160
Last day to withdraw from Session 2 subjects without HECS/Financial liability.(International students should refer to the International Refund Policy)
Last day to apply for a Leave of Absence for Session 2.
Last day CSU can accept whole/part up-front HECS payments.
Last day to submit Commonwealth Assistance Form.
Student Services and Amenities Fee Payment Date for Session 2.
Last Day for eligible students to submit an SA-HELP form.
More Finance and Enrolment information.
Enhancing Numeracy 2. Fractions, Percentages, and Decimals
Date
28 Jul 2021 10:00 am - 11:00 am
Understand what the numbers mean in a simple fraction. We'll look at simplification and the basic operations of addition, subtraction, multiplication and division. You'll also learn how to convert a fraction to a decimal, decimal to a fraction, percentage to a decimal and decimal to a percentage.
This workshop is part of the Enhancing Numeracy series of three workshops to develop and practice numeracy skills. The series is designed for teacher education students preparing for their National Numeracy Tests. All students are welcome to join.
For more, please visit https://student.csu.edu.au/student-life/workshops-events/events/learning-skills/enhancing-numeracy-2.-fractions,-percentages,-and-decimals
Enhancing Literacy 6: Format, Structure, and formal language
MS Word for Assignments 1
From Start to Submit: 3. Putting it in your own words
Date
28 Jul 2021 6:00 pm - 7:00 pm
Sound like an expert in your field by developing your own arguments based on evidence. You'll learn how to paraphrase, summarise and incorporate research into your paper's argument.
We'll also cover:
how to develop and structure an argument
skills to use sources effectively.
This workshop is part of the From Start to Submit: Writing successful assessments series of five workshops to enhance academic writing and assessment skills. We recommend attending all workshops, though you can go to as many workshops as you like.
For more, please visit https://student.csu.edu.au/student-life/workshops-events/events/academic-writing/from-start-to-submit-3.-putting-it-in-your-own-words