Continuing in Alexandra's footsteps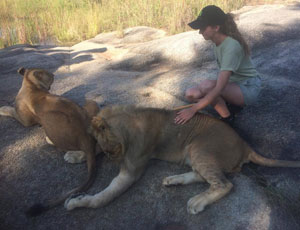 A talented horsewoman, Alexandra Henderson enrolled in the Equine Science course intending to combine her passion for horses and riding with her strong interest in conservation and social justice.
In March 2017, Alexandra spent time at Antelope Park in Zimbabwe where she was able to work with horses and wildlife, including lions on the property as part of a rehabilitation program in place. She thoroughly enjoyed her time there and was preparing her own application to return to Africa via the Charles Sturt Global Africa Experience when she lost her life in a farm accident.
Her death shocked not only her family, but also the huge extended family she had acquired during her short but meaningful life. The establishment of a fund in Alexandra's memory has helped members of this family as they try to continue to foster a world that is kinder and fairer, for animals and people – as Alexandra would have wished. By enabling other students to do the work she wanted to do herself, her family hopes to in some way fulfil Alexandra's goals.
The Alexandra Catherine Henderson Memorial Scholarship assists recipients with the costs associated with their education and enables them to participate in the Charles Sturt Global Africa Experience.
In 2017, two prizes were awarded. Kaitlyn Weller was one of those recipients. "Receiving this scholarship allowed me to take part in the African Lion and Environmental Research Trust (ALERT) in Zambia and Zimbabwe. I had the opportunity to embark on a new and highly rewarding experience which opened my mind about the career path l wish to follow as a Veterinary Student and the contribution l want to make in the world.
"Receiving the scholarship allowed me to extend my stay with ALERT for an extra week where l helped educate and work with others who shared the same passion in wildlife education. I gained further understanding in the importance of involving the community in conservation programs, as many problems faced by ALERT are due to poverty.
"I also played an important part in improving protected natural habitats, natural landscapes and most importantly l made a valuable contribution to support their long-term development goals; protecting fragile ecosystems and species abroad.
"This trip gave me a whole new perspective and outlook on life. I gained friendships. I have more appreciation and happiness since returning home. I have the drive to be a part of more programs with a purpose and l believe my time spent in Africa will enable me to make a positive impact on the world. This scholarship made all this possible for me and I'll be forever grateful."
"I hope to spread the word about my participation on this trip to enable other students to learn and participate in wildlife conservation like Alexandra wanted to do herself.