First Nations Agriculture Initiative Fund
The things that divide us and the things that bring us together The overlap of land management practices of Indigenous and non- Indigenous cultures in Australia provides opportunities and synergies for both cultures.
The communities of Charles Sturt University have in recent times endured unprecedented drought and bushfire events.
Australian agriculture cannot afford to ignore the learning of the Indigenous people who have been managing the landscape for over 120,000 years.

At Charles Sturt University, we believe the preservation and integration of Indigenous land management into contemporary agriculture study and research has the potential to create better outcomes for all.
It also has the capacity to facilitate greater participation of Indigenous people in the agricultural sector where they have been under-represented for generations.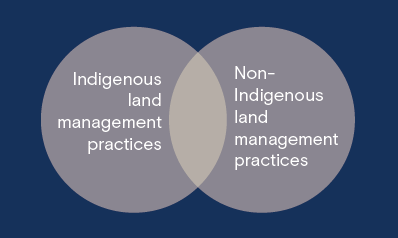 The vision
Develop an understanding of Indigenous land management practices so that future land management can be a synergistic collaboration that delivers long term benefit to all through sustainable production systems and environmental resilience.
The aim
Collaborate with First Nations peoples to create a compendium of Indigenous landscape knowledge and opportunities including: * Land management applications;
* Identification of potentially commercial native plant opportunities for development;
* Development of technology for dissemination and augmentation of environmentally significant traditional knowledge; and
* Evaluation of how Indigenous and non- Indigenous land management cultures can be synergistically integrated for improved outcomes, better drought preparedness, plus greater mutual understanding and reconciliation.
To achieve this, we need to:
*establish a research unit to specifically consider aspects of Indigenous land management

*increase the number of Indigenous students in agriculture through the delivery of a curriculum that is relevant to Indigenous culture and the creation of annual scholarships

*create a higher degree program for Indigenous students to ensure traditional practice and learnings are brought into the digital age.
We are looking to raise 12.28 million over 5 years to achieve this outcome.
Join us