The Charles Sturt University Handbook is the official reference for courses and subjects.
Finding your Handbook
It's important you follow the Handbook from the year you commenced your course. The table below will take you to a list of all Handbooks for each year.
The information contained in the Handbook was accurate at the date of publication. The University reserves the right to vary the information at any time without notice.
From 2023 onwards
If you're starting your course from 2023 onwards, please use our new handbook. We'd also love to hear your feedback.
From 2022 - 2000
If you started your course during this period, please choose the year you started below.
Using the handbook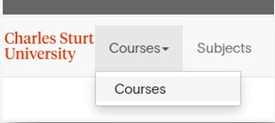 Once you have chosen the year, select Courses from the menu to view that year's courses.
Subject availability
Not all subjects listed in the handbook will be taught in the given year. To search for when a subject is taught in a session, use the Subject availability list.
Policies and regulations
For official information on specific academic, enrolment, and assessment policies and regulations, go to the Student Policy Library.
More information
For more information about your course handbook or structure, contact your Course Director.